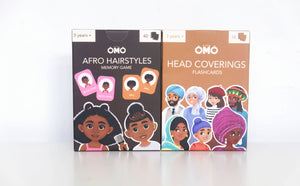 SIGN UP FOR EARLY ACCESS

Are the products something you would love to have in your home or the school you teach, If so, sign up to our newsletter now to stay updated. We will be sharing different ways of how you can use the products with children, here on our website and our social media platforms before we announce our launch date.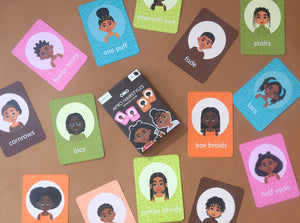 AFRO HAIRSTYLES
Memory Game

Explore the exciting Afro Hairstyles Memory Game, featuring illustrations of 10 girls and boys showcasing an array of captivating hairstyles. Join the fun and match up these delightful hairdos for an engaging playtime. To amplify the joy of learning, we offer a special complimentary download that includes a fun quiz and conversation starters for you and your child. If you made your purchase online, the download will be sent directly to your email. If you purchased in-store, you can access these resources on our website's 'resources' page.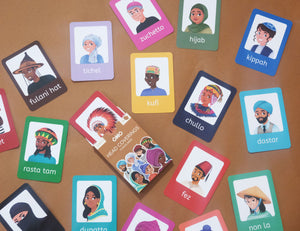 Discover the Head Coverings Flashcards, where your child can journey through 18 beautifully double-sided illustrated cards,
each highlighting the rich diversity of head coverings from various corners of the world. Unveil the fascinating stories and cultural significance behind these traditions, igniting meaningful conversations and fostering a deeper understanding of different cultures.To make the learning experience even more exciting, we've included a complimentary digital download with a captivating quiz to test your little one's knowledge and thought-provoking discussion prompts designed to engage both parents and teachers in valuable discussions. Let's come together to celebrate the beauty of diversity and cultivate a sense of global appreciation in our young learners!